First let's look at the ORIGINAL FACTORY SETUP:


The 240

non-ABS

brake junction block (manifold) shown here has 8 ports. This first photo below illustrates the

original 240 brake line
configuration
when using the original 240 front calipers in my '84 240
, which originally used

two brake lines per front caliper

.

The front Brembo R calipers use
only one line per caliper

.

For this conver
sion,

two of the front caliper ports on the junction block (manifold) will need
to be
plugged.

MODIFIED PLUMBING. ALTERNATE 1:


This is how I originally made this work back in 2004 when I installed these front 'R' brakes on my 1984 245.
I
simply removed one front brake line from the right side and one from the left.

I then

PLUGGED

the two empty holes.

This method worked fine for years.

I did receive some grief from a few 240 enthusiasts who felt it was unsafe.

They felt that if one front caliper suddenly lost pressure, hitting the brakes would shoot the car off to one side out of control and it would be a disaster. I suppose it's possible,

so use caution and you're own judgement.



NOTE: Jacob

(who installed Porsche Cayenne calipers)

also used and recommended this method in his brake instructions.
As far as I know so far, no one has done it differently for an R conversion (except for full proportioning valve additions) and this has been done MANY TIMES over the years.


ALTERNATE 1A (photo not shown of this one):
If you're OK with Alternate 1, but are shaking in your booties about the potential problem mentioned above, this may be a solution.

This method uses the same configuration shown in Alternate 1, except for one change.

As shown in Alternate 3,

you would remove the inner piston assembly.

This will convert the two-chamber junction block into a

one-chamber junction block.

Any fear of the car shooting off left or right should be gone now.
Be aware that if you lose pressure with this configuration, you lose all brakes. So choose your poison.
I have not tried this method and to my knowledge no one else has either.
Plastic Sender Note:
If you remove the inner piston, I think it might be a good idea to

remove the

plastic sender

and plug that hole with a metal plug (M12 x 1.0 thread).

The internal pressures may be too much for the plastic sender after removing that inner piston assembly. Not sure. Just saying to think about it
.
More on this is discussed a little below in the "Plastic Sender" section.
ALTERNATE 2:


This is a method suggested by a someone who was concerned about

Alternate 1

. If you choose to do it this way, you will need to either bend the existing brake lines to fit (if possible) or make new ones. This method is very similar to how the ABS 240 was plumbed.
The safety aspect of this method is as follows:

If pressure is lost somewhere, then you will lose either front brakes or rear brakes, but not all of them at once.
In September 2022 I received an email from Steven B. in Oslo, Norway. He mentioned that he had originally tried

Alternate 1

for his front R brake installation and had some intermittent trouble. He was using a standard master cylinder, brake junction manifold and rear brake reduction valves from a 1979 265. The source of the trouble
remained a mystery for a while. He believed the trouble seemed to be related to the piston inside the junction manifold, which he believed may have been moving to one side during repeated brake use. This was slowly causing a pressure imbalance, which would happen after using the brakes a number of times. Soon the brakes would begin pulling to the left after using the brakes through the day.

This issue would resolve by itself if the car sat unused overnight, but then would gradually repeat when brakes were used repeatedly. He could find no defect in any part.

Steven decided to try

Alternate 2 configuration

and the problem was resolved.



Steven also said in order to get upgraded brakes approved in Norway, a DUAL SYSTEM must be retained. Using

Alternate 2

was sufficient for that approval.
I would certainly appreciate some feedback if you have done an R brake conversion. What method did you use?

CONTACT
ALTERNATE 3:


This is a proposal for those of you who would choose Alternate 2, but would like to eliminate the piston.
I have not tried this method and to my knowledge no one else has either.

That inner piston separates the two chambers, but is designed to freely move forward or rearward depending on brake pressure differentials.

By removing the piston, the junction block is converted to a one-chamber block, instead of two.
Be aware that having a one-chamber junction block means that if any part of the brake system looses pressure, then all of it will.

Plastic Sender Info:
If you remove the inner piston, I think it might be a good idea to eliminate the

plastic sender.

There's a lot of pressure in there and I don't know if trusting a plastic threaded sender is the best idea.

The thread for this port is M12 x 1.0.

There are fittings available with M12 x 1.0 thread, but all I have found so far are JIC or AN fittings with a

flared sealing end.

If you look under that white plastic piece inside the port, it's just a flat bottom with a small hole in the center, so a flared fitting will not seal there.


There is, however,

a chamfer for an o-ring,

seen below, which is what the factory sender uses to seal.
So I think there is a very good chance of creating a seal using an

M12 x 1.0 o-ring plug,

such as this:
https://www.onehydraulics.com/products/9030m-12x1-0.

Or
PN 9151K245
from
McMaster Carr,
which was used successfully in this thread:
https://forums.turbobricks.com/showthread.php?t=362998

If you do something l
ike this with your project, please email me. I'd like to know.

CONTACT

ALTERNATE JUNCTION BLOCK (BRAKE LINE MANIFOLD)
If you want a brake junction block (manifold)

without a warning sender and without an inner piston,

look for

Volvo PN 3540084

from a 1991 240.
This manifold It will operate as two separate junction blocks with no shared internal port.
---



WILWOOD ADJUSTABLE PROPORTIONING VALVE


You may want to consider re-configuring your brake lines to use a proportioning valve like this one. It's a much bigger step and will require you to install mostly new brake lines.


You can read about one of these installed on a 240 here at

https://www.240turbo.com/volvo240bigbrakes.html#proportioning


WHEEL SIZE IS CRITICAL with bigger brakes:
When planning an upgrade like this it is very important to carefully consider the need for larger wheels AND more room to the outside of the original brakes. As far as wheel diameter, if you use these 13 inch rotors, there are some 17 inch wheels that still will not clear. The wheel shown in these pics are 18 inch.

So far I know the 17 inch Volvo R wheels will clear just fine and I have been told the Volvo Tethys also. Both are FWD type wheels and will need custom spacers to fit a 240 properly.

The popular EIKER (Polaris replica) is 17 inches and WILL NOT FIT because the caliper hits the inner wheel barrel.

The outside surface of the new, larger R caliper will be further outboard (in the direction of the wheel spokes). My measurements show them to be about 24 mm further outboard when compared to the stock 240 caliper. So if your wheel spokes are already close to your original front calipers, you will either need new wheels or some wheel spacers to move them outward. Many more discussions from others who have worked out this installation can be found in the Turbobricks forum.



FRONT/REAR BRAKE BIAS

For braking to be effective when you get near the limit, you need a pretty good balance between the front and rear. If any brakes begin to prematurely lock up, it is preferred for the front brakes to lock just slightly before the rear brakes. When I tested these brakes initially with no adjustments or changes to the front/rear bias (which included a track day at Thunderhill Raceway in May 2004), I found the front brakes had a little too much strength and would easily lock if I wasn't careful. This required some concentration and discipline at track speeds. I found if I was gentle on the pedal I could prevent it, but still it needed to be improved. For a better balanced setup out of the box, I suppose anti-lock brakes work nice at leveling things, but adding ABS to my 240 wasn't an option I wanted.

If I were to use dual master cylinders with a balance bar, the imbalance could have been solved with an easy adjustment, except it would have been expensive and it would eliminate the power assist. My first thought was to remove the rear brake reduction valves (to increase rear brake bias) and then install a custom single rear line with an adjustable proportion valve to regulate rear pressure. So I did the first step and removed the rear reduction valves.

After the reduction valves were removed, I needed some way to re-connect the brake lines and found that a

standard early 1980's 240 junction block (shown in photo)
worked perfectly in place of the reduction valve
s. It fits like it could have been made to go there.

Four of the open ports on the block needed to be plugged

(so four mor
e brass plugs were needed).
After testing the brakes without the rear reduction valves, I discovered the front/rear bias was nearly perfect for a wagon. Much better than expected. I now have a very nice front/rear balance which takes full advantage of the improved brake system. Much stronger front brakes (because they're so damn big) and stronger rear brakes also (since removing the reduction valves).



So now we know this can work for a 245. What about a 242?
....After Doug Kauer (Hank Sporpio) did his R brake install on his 242, he then tried this method above and found the result to be perfect for his car: https://forums.turbobricks.com/showthread.php?t=22183.
Yes, many mods like these can be considered amateur, but many Volvo owners have greatly improved the performance of their cars over the years through such experiments. This isn't the end-all solution and it might not be for you, but for the money, it was one of the best modifications I have ever done to any Volvo. I want to thank Travis Kijowski at Strictly Volvo Racing for designing and producing the caliper brackets. They turned out very nice.
If you do a mod like this (or do it differently), I would like to hear about your results.

Experimentation is the key to improving modifications.
Here is an R caliper installation that was done a little differently and the results.
-from Matt Dupuis (added 07-16-06)
Here's some feedback on my conversion, and what I've done differently than (I think) everyone else:
The
piston dimensions
on the S60R calipers when mounted on a P2 car (S60R) are
34 mm for the leading piston and 38 mm for the trailing one
. For a staggered piston design to work as designed, the trailing piston must always be larger than the leading piston. This is done on calipers with long pads to keep the pad twist under control and to keep the pad wear (and heat) even across the length of the pad.
It occurred to me later that the P2 chassis has the calipers mounted in front of the axle centerline, and that the leading (smaller) pistons would be on the top, and on the same end of the caliper as the bleed nipples.
When rotating them around to the rear of the axle centerline, as on the 240 chassis, the smaller piston would remain the leading piston.
This would be the correct way to installed them, however it places the bleed nipples pointing straight down. Furthermore, the high pressure line, as it comes out the caliper, would also be angled down, making it difficult to route the line away from the suspension control arm.
I pondered these problems when I was doing my installation, and
attempted removing of the blanking plugs from the trailing side of the caliper
to move the bleed nipples to that side so they'd be pointing up.
They would NOT come out.
I tried heat, I tried chemicals (thread unlocker), and I tried force. Eventually I stripped a couple of the plugs' socket hexes (not to mention the paint from around one of the plugs with my propane torch),
so I gave up trying to move them.
I came to the conclusion that I'm only going to need to bleed these brakes once or twice, so I might as well remove the calipers and hang them "upside down" from the struts to bleed them. I shoved a piece of metal between the pads to keep them from compressing, and bungee'd them to the spring, and they bled out just perfectly.
As far as the brake hose issue, I solved this by using a regular 240 hose and hose-to-caliper hardline. The hardline threads into the caliper properly, and allows one to quickly bend upwards and clamp to the strut (being removable is necessary, so the caliper can be removed and bled again if needed).
And to my pleasure,
these calipers fit just fine behind a Volvo Tethys wheel when using a 25mm spacer.
They're not very visible back there behind all those spokes, but they fit just fine.
I used Hawk pads for an Subaru STi as Hawk doesn't list them for the R, or at least they didn't when I bought the pads (The STi Brembo caliper shares the pad dimensions with these calipers). I'm not sure if I'd use them again - they squeal when lightly applied and the dust is pretty dark, and on the Tethys the dust accumulates quite quickly.
So far they're the most confidence-inspiring brakes I've ever driven. I'm not 100% happy with the balance yet - the fronts are too powerful, even though:
a) my car's not lowered;
b) my car's got a heavy V8 in the nose; and
c) I removed the rear brake limiting valves, but boy does the car stop!
I do prefer a bit more rear bias, and I don't spend any time on a road course, so I imagine I'm not the utmost authority on brake setup, but I wish I had a bit stronger rear brakes. Next step MIGHT be converting to different rear calipers... maybe Rs and vented rotors as well?
---
As a follow-up to Matt's submission above...


On the subject of

Potential Uneven Pad Wear due to the offset piston sizes and reversed calipers

.... I pulled and inspected my Green Stuff pads after a few years of use and found nothing that suggested they were wearing unevenly. Also, of all the other people running R calipers in the wrong direction on 240's, so far I have heard of no abnormal or uneven pad wear.... just great braking! Take this for whatever it's worth, but I suspect the issue is not a big one.
And a side note regarding comments I have read about

EBC Green Stuff pads

after I bought them. I read several forum posts supposedly written by "experienced" people, who said the Green Stuff pads were "horrible" because they were not aggressive enough for the track, but too aggressive for the street. I have found after a few years with these pads (with some very aggressive track days) that I completely disagree with their opinions. These pads have worked great for me. No squealing, great stopping when cold, no fading when hot, and very little dust! And others have since reported that Hawk pads are horrible when they get a little wet. I haven't seen this problem with EBC Green Stuff. And Hawks, as it turns out, are considerably more expensive than EBC pads.

My considered opinion is that Green Stuff works fine in this combination.
- Dave B.
240 Front R BRAKES:

CHAPTER 2
2006 Update: Wilwood 2-piece front rotors were added to front R-Brakes.

I wanted to upgrade to a two piece Wilwood rotor assembly, so I had the above pictured 2-piece rotor set made up.
It was done by Todd Cook at
TCE Performance Products
in Tempe, Arizona,
http://tceperformanceproducts.com
.
And since a custom hat/rotor combo means that I could alter the rotor offset (within limits of course), I decided it was time to
move the
rotors inward .500"
(1/2 inch).
This would give me broader wheel options in the future.
This is where the modified caliper adapters below came into play.
I had the raised pads on the adapters shaved .500" (1/2 inch) where they meet the caliper. The other areas you see where aluminum was removed were necessary to clear portions of the caliper body.

You may compare the first photo below (original SVR caliper mount bracket) to the second one showing the modified SVR bracket in place, which moved the caliper inward 1/2 inch.
Now you might ask... If I could move the calipers inward 1/2 inch, then why not move them in further? As mentioned above, there are limits.

The limiting factor with the 240 is the steering arm,

which is normally less than 1/2 inch from the stock rotor. That's about where my new setup put the Wilwood rotor.



---
240 R-Brakes FRONT and REAR
2021 NOTE

:

240 R
Brake Adapter Kits (FRONT AND REAR) are available in the U.S. from STS Machining.
https://www.stsmachininginc.com/240-big-brakes-s60r-v70r
The below photos show a

240 Turbo owned by Aris from Greece.

This car is featured in my Favorite Modified 240 Page HERE.
It has been fitted with

FRONT and REAR S60R (Brembo) calipers and rotors

.


WHEEL SIZE:

Aris uses 18 inch wheels with these brakes. These big brakes will normally require at least 17 inch wheels.

The FRONT rotor, made by Brembo, is 13 inches (330.2 mm) x 1.25 inch (32 mm).

The REAR rotor, also made by Brembo, is 13 inches (330.2 mm) x 1.1 inch (28 mm).



Here are the rear calipers in place below. The rear dust shields needed some minor trimming near the top of the caliper.


Factory Calipers MUST BE SWAPPED LEFT TO RIGHT when installed on a 240.

FRONT CALIPERS
The below LEFT image shows how these calipers are normally mounted on an S60R, V70R, FORWARD of the center hub.
The below RIGHT image shows how these calipers are mounted on a 240, BEHIND the center hub.

The R front caliper is an aluminum 4-piston type made for Volvo by Brembo. The caliper weighs 7 lbs. 6 oz. (about 3.3 kg). They are different on the right versus left side.


The caliper has

4 pistons, which can be said to have staggered or offset piston sizes.

Two pistons are

42 mm diameter

and two are

38 mm diameter.





AFTERMARKET CALIPER NOTE:


There are new aftermarket FRONT and REAR calipers available (as of 2021) that have

bleed valves on BOTH ENDS.

This means that the

se calipers can be used on the LEFT OR RIGHT sides and you'll always have a bleed valve at the top.


.

REAR CALIPERS
The below LEFT image shows how these calipers are normally mounted on an

S60R, V70R,

FORWARD of the axle.
The below RIGHT image shows how these calipers are mounted on a

240,

BEHIND the axle.

This caliper has 4 pistons. Two are

28 mm diameter

and two are

30 mm diameter

.
This configuration reverses the rotor direction in relation to the caliper, which means the smaller piston, which used to be the leading piston, will become the following piston.

The FRONT rotor, also made by Brembo, is 13 inches (330.2 mm) x 1.25 inch (32 mm).
The REAR rotor, also made by Brembo, is 13 inches (330.2 mm) x 1.1 inch (28 mm).


---

240 REAR PARKING BRAKE

The S60R rear brake rotor has no provision for an internal parking brake, like the 240 does. So the 240 parking brake function is retained by using the drum portion of a standard rear 240 rotor with the disc area machined off.

The 240 drum is installed. Then the new rotor is placed over the 240 drum. In the second photo below, the rear rotor is in place, along with a wheel adapter.


Standard wheel stud length normally protrudes out about 25 mm.
The drum is about 5 mm thick, so adding the new rear rotor PLUS the 240 drum BEHIND IT will reduce the wheel stud length by about 5 mm.

---
MASTER CYLINDER

Aris installed this

740 master cylinder

below in his 240. He reports that the brake pedal feel with front and rear R-brakes is very good and needs no improvement.
This is

Volvo PN 1273243 or 1359693,

1986-88 740 without ABS, 1991 940 without ABS.
This MC has a stepped bore very similar to the stock 240 MC (without ABS).

STEPPED bore REAR dimension: 22.225 mm (0.875 inch) primary bore

STEPPED bore FRONT dimension:

, 15.875 mm (0.625 inch) secondary bore.
M10 x 1.0 bubble flare (European) brake line ports. Rear port on right, front port on center front.


The front and rear R calipers will use MORE FLUID VOLUME that stock 240 brakes, but just HOW MUCH more?


240 caliper FRONT

:

(38 mm x 4) x2 (right+left) equals 4536 mm
˛ area per caliper.

9072 mm˛ total area.


240 caliper REAR:
(38 mm x 2) x2 (right+left) equals 2278 mm
˛ area per caliper.

4536 mm
˛

total area.



R caliper FRONT:

(42 mm x2 plus 38 mm x 2) x2 (right+left) equals 5045 mm
˛ area per caliper.

10090 mm
˛

total area.
R caliper REAR:

(30 mm x2 plus 28 mm x2 rear) x2 (right+left) equals 2645 mm
˛ area per caliper.

5290 mm
˛

total area.

So the FRONT R calipers combined have 11.2% more area than a 240
.
The REAR R calipers combined have 16.6% more area.

Piston Diameter to Area Calculator: https://coolconversion.com/geometry/circle/area/

11.2% MORE AREA for FRONT? 16.6% MORE AREA for REAR?
This means that if you

think

you need to use a bigger master cylinder with more volume, it may not need to be much larger at all.



If the brake system is divided up into one FRONT system and one REAR system

(which you will see in the next section), then we can calculate the volume differences more accurately. If I were giving advise, I would tell you to try the 240 MC first (or the above 740 MC). If the MC seems too small (it would have too much pedal travel or it might be too easy for the brakes to grab too hard), then you can start looking for an alternative.



LET'S TRY A HYPOTHETICAL EXAMPLE.


For this example, let's use the 240 MC. We'll use the REAR bore

(22.3 mm)

for the

FRONT

brakes only.

A 22.3 mm piston has an area of 390.6 mm˛.
Then we'll assume the 240 MC FRONT bore

(15.75 mm)

feeds the

REAR

brakes only.
A 15.75 mm piston has an area of 194.8 mm˛.

Regarding Ford Mustang MC Recommendations:
I know that a number of people have recommended or installed a

"Mustang master cylinder" for use with

this R brake (front and rear) conversion. There has been some confusion, because there are several Mustang master cylinders;
1994-95 Ford Mustang GT

, 1993 Mustang SVT Cobra and 1994-95 Cobra MC, all of which have different piston bore sizes. Details on all three of these can be seen HERE.

If we can assume the Volvo 240 design engineers knew what they were doing, perhaps we can expect a good choice for a larger master cylinder to be somewhat

PROPORTIONAL

to the increase in the brake caliper volume size.
For this comparison below, I'll concentrate on the popular Mustang GT 27 mm master cylinder specs:
This MC has a piston size of 1.0625 inch (27 mm) for both front and rear. This MC has a piston area of 572.6 mm
˛ x 2 = 1145.2 mm
˛
. The 240 MC with its stepped bore (22.3 and 15.75 mm) can be said to have an average bore of 19 mm (piston area of
390.6 mm˛ +
194.8 mm˛ = 585.4 mm
˛).
Using this info, this means a Mustang 27 mm MC with a piston area of 1145.2 mm
˛

appears really, really big in comparison (95.6% increase).

BRAKE PEDAL RATIOS
The 1994-2004 Mustang brake pedal ratio appears to be about 4.5 to 1. Compare that to a 240, which is 4 to 1. So the Mustang pedal seems to have a bit more brake pedal leverage, which means a Mustang pedal is more suited to a larger master cylinder.


What if we divide this Mustang GT MC into FRONT and REAR circuits as if we're dividing it with a proportioning valve.
Each piston in a 27 mm Mustang GT MC has an area of 572.6 mm˛.
Feeding the FRONT brakes, I find that the Mustang MC appears to provide 46.6% more volume over the 22.4 mm 240 primary (rear) piston.


Feeding the REAR brakes, the Mustang MC seems to provide 93.9% more volume over the 15.75 mm 240 secondary (front) piston.



Keep in mind that much volume increase could make for a very hard pedal, which could require extra leg effort.



So let's say for example we're going to try a smaller Mustang MC.
Let's look at the 1994-95 Mustang SVT Cobra master cylinder with a standard bore of 23.8 mm.
A 23.8 mm piston has an area of 444.9 mm˛.
This would provide a 13.9% increase of area for the FRONT calipers compared to the 240 MC.
It would provide a 28% increase of area for the REAR calipers compared to the 240 MC.


A small change in

piston bore size can make a significant difference in how the pedal feels.


So one can argue that even a 23.8 mm MC might be

proportionally

be a bit too big for a front/rear R brake conversion, although I suspect it will be hard to notice.

---
I have seen some comments that the 2004-07 S60R/V70R had a larger master cylinder than a 240. Well yes, it had a 25 mm bore. I don't know how useful this comparison is.
The master cylinder for the R is Volvo PN 8602365. It has a standard bore (not stepped) of 25 mm.


OTHER FACTORS TO CONSIDER
ONE MORE FACTOR you should think about is how efficient your VACUUM BOOSTER is. If you have an engine which offers lots of vacuum to your brake booster, then that booster will be stronger and will offer MORE POWER ASSIST. If you have a lower vacuum engine, such as a B21FT (7.5 to 1 static compression ratio) or if you have a bigger than stock camshaft, which reduces the vacuum to your booster, then you'll have potentially LESS POWER ASSIST.

And a factor which I have not yet mentioned here. This is the

increased braking leverage that a bigger brake rotor provides

. I don't know how much difference this makes in choosing a master cylinder, but it will be a factor of some sort in your decisions.
Here's a thread with a number of comments from people using Mustang master cylinders.
http://forums.turbobricks.com/showthread.php?t=349379
BOTTOM LINE:

You might need to experiment with more than one master cylinder.

I have compiled a number of different MCs with full piston specs HERE

.



Again, your comments are welcome.
---
WILWOOD PROPORTIONING VALVE


Aris from Greece took a big step and

eliminated the original brake junction block

in his 240. Instead he installed a Wilwood Adjustable Proportioning Valve, PN 260-11179.

Since this Wilwood valve uses

3/8-24 Inverted Flare ports

(Inverted Flare is the same as a Double Flare) and the original Volvo brake lines had fittings threaded as 10 x 1.0 mm Bubble Flare, Aris cut the lines and re-flared them to a double flare using new 3/8-24 brake line nuts for the lines going to this valve. The Volvo brake pipes
are the correct size for the change in fitting size, so there is no need to

change to a different size pipe.




Here's an image below showing the brake line routing to the proportioning valve.


Using the smaller front bore from the MC for the rear calipers was a good choice. The rear calipers need less fluid volume than the fronts.
Since a pre-ABS 240 has two lines going from the junction block to the rear calipers (going through factory pressure reduction valves), Aris removed the reduction valves and changed to one line going rearward to a simple junction near the rear end, which then splits to both rear calipers.


240 WILWOOD BRAKES
Learning brake voodoo can be overwhelming. I came across this brake pressure chart from Wilwood that may offer just a small bit more understanding of pedal effort and its relationship to master cylinder bore size.
A PDF of this chart can be found at:
https://www.wilwood.com/PDF/Flyers/fl162.pdf
Wilwood Front Caliper Adapter Kit
by Avalanche Performance
The adapter kit featured here is no longer available.
In 2010
Avalanche Performance Technologies
came out with a 240 adapter kit for installing Wilwood brake calipers and Wilwood rotors on the front of a Volvo 240.
This chapter will show the installation on my 1984 242 Turbo.
This brake kit was designed to offer an inexpensive solution for 240 owners who wanted larger front brakes. While less expensive than the R-brake conversion, it also allowed for more wheel options, since this brake package used smaller 12.2 inch rotors and would fit inside smaller wheels compared to the R-brakes with big 13 inch rotors.
Referring to the photo ABOVE, the Avalanche kit came with two custom aluminum adapters with mounting bolts, two custom aluminum rotor hats, and the brake line pieces shown, which go from the caliper to the flexible line junction at the 240 strut tube. Also included were two M10-1.0 plugs for the brake line junction block.
The customer then purchased rotors and calipers from Wilwood.
Here are the Wilwood calipers (left and right respectively) bolted up to the adapters.

I used the following Wilwood items:


CALIPERS: WILWOOD Billet Forged Superlite (FSL), PN WW120-7431L and WW120-7431R


(NOTE: These caliper parts numbers above are no longer available.


Wilwood discontinued this caliper with an EXTERNAL crossover. The new model now has INTERNAL crossovers:

Wilwood Forged Superlite (FSL) Internal

, available with 1.25 inch bore, 1.38 inch bore, 1.62 inch bore, or 1.75 inch bore or may be ordered with staggered piston sizes.
These new "Internal" calipers have internal fluid crossovers instead of external crossover tubes as seen in the old FSL caliper photos here.





WILWOOD Billet Forged Superlite (FSL) Specs.


Four pistons, 1.38 inch (35 mm) bore.
Made for 1.25 inch (32 mm) thick rotor.
For more detailed info on this caliper, click here to search the Wilwood page or click here for the Wilwood FSL pdf.
The brake line port on this caliper is threaded

1/8" x 27 NPT

(female).





ROTORS: This kit was made for any

Wilwood

12.19 x 1.25 inch (309 x 32 mm) rotor

with 8 bolts, 7 inch bolt circle.
I opted for

Wilwood Ultralite 32 fin curved vane rotors

, PN 1602895 (left) and PN 1602894 (right).


This photo below compares the Wilwood rotor to the front R rotor.



---
These hard brake lines were constructed as follows:
90 degree fitting, 1/8 inch x 27 NPT male at the caliper to female on other end (Wilwood calipers use 1/8 NPT brake ports).
Adapter: Straight 1/8 inch x 27 NPT male to 3/8 inch x 24 double flare female brake fitting.
3/16 inch brake line (4.75 mm).
3/8 x 24 brake nut with double flare.
Other end to Flex hose: Standard Volvo 10 x 1.0 mm bubble flare male (Europe).
Flex hose (one per side), stainless braided, 10 x 1.0 mm bubble flare (Europe) female on both ends.


BRAKE LINE

NOTE:

You may use 3/16 inch brake lines for all Volvo 240 applications. Metric brake lines in this size are 4.75 mm. 3/16 inch equals 4.76 mm.


FITTING NOTE regarding 10 x 1.0 mm Bubble Flares:

Make sure you get fittings that are designated as

10 x 1.0 mm EUROPEAN Bubble Flare.

There are JAPANESE 10 x 1.0 Bubble Flare fittings out there, which will not fit.
A good source for correct Volvo threaded fittings:

Belmetric

www.belmetric.com/bubble-flare

.





NOTE ABOUT BRAKE LINE ADAPTERS: Constructing brake lines using multiple adapters is not the best solution if it can be avoided. Keeping adapters to a minimum will reduce the chances for leaks.


In a perfect world, this caliper would have come with standard Volvo 10 x 1.0 mm bubble flare ports. They don't.

Whenever possible,

do some careful research with an effort to keep adapters to a minimum. This adapter setup uses what was originally recommended by Wilwood, however fewer adapters would have been better.

If you search, you will find that there are more proper adapters which will adapt a 1/8 x 27 NPT port DIRECTLY to 10 x 1.0 mm (European) bubble flare.


For example, here are some made for VW by Empi:


Empi 18-1107 90 Deg Male 1/8" NPT to Female 10mm X 1.0 Bubble Flare https://www.amazon.com/dp/B07979K5TH.
Empi 18-1102 Straight Male 1/8" NPT to Female 10mm X 1.0 Bubble Flare https://www.amazon.com/dp/B0748NNSZR.
Using one of these adapters at the caliper would eliminate the need for the middle adapter in the above photos.


---
BRAKE PADS for Wilwood 7420
This Wilwood caliper uses Wilwood pad type 7420.

I read up on the pad compounds in Wilwood's site and I chose the

BP-10 Smart Pad

(formerly called PolyMatrix D). This pad seemed to be a good choice for high-performance

mostly street use

.
I used these for years. They performed great, but for some reason they

tended to squeal very loudly when very, very hot.



More choices recommended by other Volvo owners for mostly street use:


Wilwood Poly Matrix Q for 7420 caliper.

I have not tried these.
Porterfield R4S pads for 7420 caliper. I put these on my car in 2023 and I've been happy with them.


The
rotor to hat fasteners
were not supplied with the adapter kit, so I ordered
Wilwood socket head bolts, 5/16" x 24, PN 230-0150
(8 pieces with washers, 2 sets needed).
I cannot over-emphasize the importance of test fitting parts like these before committing yourself to the full installation.
The first thing I found (I expected this would happen) was that the
brake backing plate interfered
with the new adapter and caliper. The main interference was found near the bottom of the adapter bracket. Trimming the backing plate is a solution, but I chose to remove it instead. The hub needs to be removed to get the backing plate off. The second photo below show the backing plate removed. This will be a good opportunity to re-grease the bearings. Also,
the rubber seal on the inside end of the spindle would be a good thing to replace
, since they are cheap and still available.
Here I'm test-fitting the caliper bracket after the backing plate was removed.
Here's something to be cautious of.
If you're using caliper mounting bolts that have an un-threaded shoulder (like the original Volvo bolt in this photo), check to make sure the bolt threads all the way in. I've seen more than one type on cars from the factory. The kit came with a washer to use here between the bolt and adapter (it's important to use a washer when bolting to aluminum), but since the adapter bracket is a little thinner than the original 240 caliper mounting arm, the original bolt would not seat completely.
Simple fix: One additional washer was added.

Here is a snag that stopped my installation.
I knew ahead of time that there

could be interference

between the deep spokes on the

Eiker (Polaris replica) wheel

and the Wilwood caliper.
There WAS interference.


In this photo ABOVE, I did another

fit test

by placing

an

8 mm spacer

behind the wheel to move the wheel away from the caliper 8 mm. This allowed a comfortable clearance distance of

about 1.5 to 2 mm

between the wheel spoke and caliper. So these wheels would not fit on a 240 with this kit, unless the wheels were spaced outward about 8 mm.
A 240 wheel stud normally protrudes about 25 mm out and the LUG NUT will usually engage about 15 mm of thread on the stud. Using an 8 mm spacer would have

reduced

that engagement too much. Longer wheel studs would have been a solution, but I put off installation for a while.


MORE BELOW

.



---


I then bought different wheels, which had a bit more room behind the spokes.
These wheels are also 17 x 7.5 inches. They just fit better.
I have more details about these wheels at https://www.240turbo.com/

More Big Brake Conversions
Wilwood Caliper Adapter and Rotor Hat Kit by Kevin Hawkinson. A VERY SIMILAR kit to the above Wilwood kit.
This kit shown was being offered at one time in the below Turbobricks thread.


BREMBO Four Piston 240
F
ront Caliper Adapter Kit
from BNE Dynamics (Kaplhenke Racing).
This is a kit which Includes new calipers and adapters for your choice of rotor diameter options:

11.25 inch (286 x 26 mm) / 11.88 inch (302 x 26 mm) / 12.44 inch (316 x 28 mm).

This allows you to find a larger brake kit which will fit under a number of differently sized Volvo wheels.
This 4-piston caliper keeps the same stock 240 sized 38 mm piston diameters, so that there is no need to upgrade your master cylinder.
https://www.bneshop.com/collections/240/products/240-medium-brake-kit-brembo-calipers
https://www.bneshop.com/collections/240-medium-brake-brembo-kit
These Brembo calipers are LUG MOUNTED
More info in the TB Discussion Thread:

https://forums.tbforums.com/showthread.php?p=6162206
RX7 BRAKE CONVERSION

The brake conversion below was originally introduced by
DVS Performance Parts
in Australia at
http://www.dvs.net.au
.
In January 2013 I received an interesting email from Willy Reerink in the Netherlands.
Hello Dave,
I am working on the ultimate Volvo 240 to Mazda RX7 brake upgrade. My story is as follows:
In 2011 I bought a Ford Taunus dragrace car in Sweden and bringing it to the Netherlands where I live. As the car was built in Sweden they used Volvo 240 spindles and calipers. But when the car was built years ago it was much slower then with its current engine. I bought it with a 1.000 HP Chevy Small Block engine in it. It never raced with this engine and brakes. Last year we made the first runs, and brakes seemed not to do anything at all. So I first overhauled the brakes, and used ECB race pads. Brakes work now but the car is reaching 250 kph (156 MPH) and that makes braking even more exciting then accelerating!
Anyway, I looked for a brake upgrade and decided that to me the best solution was the RX7 upgrade. Cheap, easy to mount, and much lighter then the 240 ones.
I am still working on it because I do encounter some problems and I am not a mechanic. I do this for the first time.
But I can make a good comparison. The Volvo 240 ones did have just enough capacity to stop the Taunus, but nothing left (I prefer braking with the chute now). So lets see what happens this summer when the RX7 brakes are installed and how they manage high speeds. We will see.
You can follow my brake upgrade on my blog at:
http://turbotaunus.wordpress.com/brake-upgrade/
Added 2021
The below

Porsche Caye
nne 17Z

front and rear big brake conversion kit for 240 is now available at BNE Dynamics (Kaplhenke Racing).
https://www.bneshop.com/collections/240/products/240-brembo-17z-adapters
Porsche Cayenne Calipers on a 240

July 2013, by J. Homer.
Here's a great looking adaptation of Porsche Cayenne brake calipers on a 1990 240 Owned by J. Homer.

Original Cayenne brake thread: https://forums.turbobricks.com/showthread.php?t=281934
J. Homer's 240 build thread: https://forums.turbobricks.com/showthread.php?t=219119

Front calipers: 17Z left and right 6-piston calipers from a circa 2004-10 Porsche Cayenne / VW Touareg / Audi Q7 Models using large 330 x 32 mm front rotors.
This caliper has a staggered piston design. Pistons are 34 mm, 36 mm and 38 mm (6238 mm˛ piston area per caliper).
NOTE: This caliper has 37.5% more piston area than a 240 front caliper.

Rear calipers: 17Z left and right 4-piston calipers from same vehicle using 330 x 28 mm rear rotors.
This caliper has a staggered piston design. Pistons are 28 mm and 30 mm (2645 mm˛ piston area per caliper).
NOTE: This caliper has 16.1% more piston area than a 240 rear caliper.

---
Rotors: Standard Volvo S60R (Brembo), 13 inch (330 x 32 mm) front and 13 inch (330 x 28 mm) rear.
Pads: OEM style Pagid pads for Porsche were used in this project.
---
These Porsche calipers are LUG MOUNTED




REAR CALIPER and adapter.


Because of the staggered piston sizes on these calipers (similar to the Volvo R calipers) and the fact that on the Cayenne they were originally mounted on the front of the rotors (and these are going behind them on the Volvo), Jacob flipped the crossover pipes and bleeder screws to swap them.
Having the staggered pistons in the proper order will be best for eliminating potential uneven pad wear.


Front caliper in place.

This is the drum portion of a stock 240 rear rotor.
The disc part has been cut away. This drum is then placed on the hub, then the S60R rear rotor is placed on. This will retain the stock 240 parking brakes.


This large 27 mm bore master cylinder is from a 1994-95 Mustang GT.
The Porsche calipers need more fluid volume to move the brakes than stock calipers do. The installer felt that a smaller master cylinder would not be adequate and would probably create a longer pedal travel. He has commented that the larger master cylinder has kept the brakes from becoming too grabby and they're easier to modulate.

The master cylinder used for this conversion was identified as:


1994-95 MUSTANG GT MASTER CYLINDER



Ford PN 130.61062, Centric PN 13061062, Raybestos PN MC390185, Dorman PN M390185.
Bore size:

1.0625" (27 mm).

Standard bore, same front and rear.

Push rod depth: 1.4 inches (35.5 inches).

Rear brake line port is

M10 x 1.0 mm bubble flare

, so the Volvo brake line fits that.
Front port is

M12 x 1.0 mm bubble flare

so an adapter or new flare is needed.


Brake Line Thread Adapter, Male M12 x 1 Bubble to Female M10 x 1 Bubble

: Here's one:
https://www.ebay.com/itm/Brake-Line-Thread-Adapter-Male-M12-x-1-Bubble-Female-M10-x-1-Bubble-/331605500736



More variations of this Mustang master cylinder

can be seen HERE.
Also if you don't care for the strange looking reservoir, a stock Volvo reservoir can be fitted to this MC with a bit of effort. Reportedly, some extra care must be taken to ensure a tight seal.
This link discusses that:
https://forums.turbobricks.com/showthread.php?t=349379
A plug pigtail is available to fit the Ford low fluid sensor:

Dorman 645-920

To correctly fit the Ford master cylinder properly, the push rod on the original vacuum booster needed to be extended approximately 0.8 inch so the rod touches the MC piston when the brake pedal is at rest in full rearward position.
The stock position and the extended position is shown below.

MORE INFO:
J. Homer's Cayenne brake thread: https://forums.turbobricks.com/showthread.php?t=281934
J. Homer's 240 build thread: https://forums.turbobricks.com/showthread.php?t=219119
Adapter kits: https://www.bneshop.com/collections/240/products/240-brembo-17z-adapters
Cadillac ATS Brembo front calipers on a 240

By Edison Bender, November 2014
This adaptation uses Cadillac ATS front 4-piston calipers and 13 inch rotors from an S60R/V70R. It will fit with most 17 inch wheels. An advantage of this caliper is that they are only about $120 each new. The calipers may be purchased from various OEM suppliers and even Rock Auto has them under the AC Delco brand. They use the same brake pads as the S60R/V70R, STI or Evo, which uses 4-piston Brembos.

The adapter brackets have been custom made and are available in the below link.
Turbobricks thead and purchase info:
https://forums.turbobricks.com/showthread.php?t=305147

This information was compiled many years ago, but it's certainly still very useful. Dick Prince in Australia included a lot of useful data, which went into the making of his racing 240 dual master cylinder (non-boosted) brake system.
Certainly some of this info will be of limited use for a street car, but that's OK.
Click here for his page:
http://www.ovlov.net/page.php?page_name=brakes
Volvo 740 front hubs to receive rotor hats
.

DBA069 Mustang rotors 330mm x 28mm (left and right hand)
.

AP Racing 6-piston calipers CP5570
(Pistons: 27.0 mm x 2, 31.8 mm x 2, 38.1 mm x 2
).
17mm thick competition disc pads
.

Machined alloy caliper mounting adapters from Brunton Engineering
.

Two 5/8 inch (15.875 mm) bore Girling master cylinders with reservoirs
.

Master cylinder b
alance bar and adjuster cable
.

Removal of factory split circuit brake lines and factory reduction valves
.

Modifications to Volvo pedal box (brake pedal ratio changed from 4:1 to 4.5:1)
.

Clutch master cylinder with integral fluid reservoir
.

Volvo brake upgrade calculations:
Car plus driver = 1250kg (2755 lbs)
.

Static weight distribution: 55% front = 690kg, 45% rear = 560kg
.

Braking at 0.9g with vehicle centre of gravity 0.5m above road, produces a rotational moment about the tyre contact patch of 0.9 x 1250 x 0.5 = 560kg.m
.

For Volvo wheelbase of 2.77m this creates a weight transfer of 560/2.77 = 205kg, that is +205kg at front axle, -205kg at rear axle.
Front axle load under 0.9g stop = 690 (static) + 205 = 895kg or 447.5kg/wheel
.

Rear axle load under 0.9g stop = 560 (static) - 205 = 355kg or 177.5kg/wheel
.

Tyre radius (Yokohama A032R, 245x45/17) = 0.32m (approx. 12.8")
.

Front brake torque required = wheel load x 0.9g x tyre radius,
= 447.5 x 0.9 x 0.32 = 129kg.m (approx. 930 ft.lb)
.

Competition disc pad coefficient of friction = 0.45 approx.
Rotor O/D = 330mm Approx. radius to centre of pad = 0.155m, therefore
Clamping force to generate brake torque = 129/(0.155 x 0.45) = 1,850kg (=4,070lb)
.

Front calipers: CP5570 6-piston: total piston area 50.1cm2
.

Area of 3 pistons 27.0 mm, 31.8 mm, 38.1 mm (per side) = 25.05cm2 = 3.883 sq.inch
.

Therefore hydraulic pressure = 1,850/25.05 = 73.85 kg/cm2 (1,048psi)
.

Master cylinder 5/8" ID (15.875 mm), area: 1.98 cm2, so rod force for 73.85kg/cm2 = 73.85 x 1.98 = 145kg
.


For rear, similar calculations to those above:
Rear brake torque required: 177.5kg wheel load x 0.9g x 0.32m tyre dia.= 51kg.m
.

Clamping force req'd = 51/(mean disc radius 0.125m x coeff.of friction 0.45) = 905kg (1,991 lb)
.

Rear calipers: standard ATE 2-piston each 1.49" dia. = 11.25 cm2 per side
.

Hydraulic pressure req'd = 905/11.25 = 80.4 kg/cm2 (1,140psi)
.

Master cylinder 5/8" dia. area = 1.98 cm2
.

Rod force for 80.4kg/cm2 = 80.4 x 1.98 = 159kg (350 lb)
.

Brake pedal: Volvo standard pedal ratio = 4:1
.

Modified to approx. 4.5:1
Total rod load on twin master cylinders = 146kg (F) plus 159kg (R) = 305kg
.

So for new pedal ratio of 4.5:1 the foot pedal force for 0.9g stop is = 305/4.5 = 68kg or 150lb.
Note that rod force for the two master cylinders are similar (146kg, 159kg) which means that the bias balance bar will be near centered.
Depending on your F/R caliper areas, you may need to select a different master cylinder diameter to achieve approximately equal rod forces.
I have found that in the Volvo racecar, a pedal force of 150lb is quite OK and in keeping for this application.
For a road application, a pedal force of 100lb (45kg) will be more suitable. This can be achieved with an aftermarket pedal box, like Tilton with a pedal ratio of 6.2:1
SPECIAL NOTE: The calculations above are provided for the interest of motorsport enthusiasts only. Not for road use.



Dick Prince also prepared an "owner's manual" for this car with more detail

:


Link to PDF: https://1drv.ms/b/s!AtjXfjFx5NHNjakt9r9kaL2_GeVI9Q
---
---
Renault Megane front calipers on a 240

Info from Morten F. of Denmark October 2022
This adaptation uses 4-piston calipers from a
Renault Megane
III RS
.
Rotors are 336mm XC90 Discs. Front wheel adapters are only spacers to push the wheels further out +5 offset.
Brake lines are plugged off in the same manner as shown in Alternate 1 HERE. Works great, though the balance needs some work. Front brakes grab a bit harder than rears.
Brake lines are homemade with AN Stainless fittings and PTFE Hoses.
ADAPTERS:
These calipers are radial mounted and the adapters needed to convert them to a lug-mounted type to fit the 240 spindle. Morten designed and 3D printed adapter prototypes first, until he was satisfied a good fit was achieved. The adapters were designed in Inventor and then CNC milled from an S355 steel block. Morten did not trust aluminum enough, though the weight saving would be significant. The caliper to adapter bolts are M14x1.5 fine threaded grade 10.9 bolts. Adapter to strut bolts also grade 10.9 bolts.

---
XC90 front calipers, rotors on a 240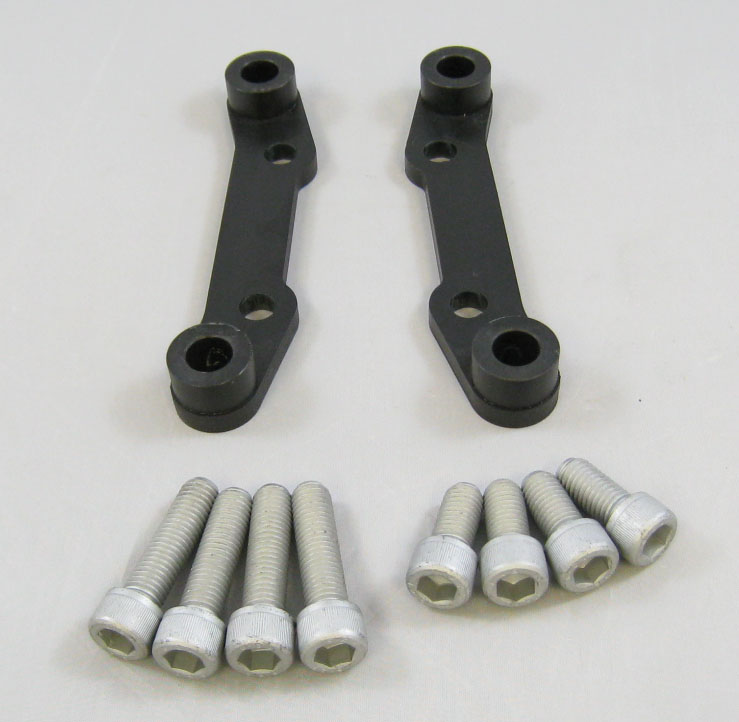 These adapters are made by Andersson Steel & Speed in Sweden. They allow the use of XC90 336 mm rotors and calipers on your 240 front. These typically requires at least a 17 inch rim.

https://www.anderssonsteelspeed.se/en/
Misc. Master Cylinder Info
I have begun compiling some useful alternate master cylinder info.
These are alternate master cylinders that some might consider using or comparing to when looking for for alternate piston bore sizes in a master cylnder that might fit a 240.

These can be compared to a 240 MC with the following specs:
Non-ABS

240 tandem master cylinder has a STEPPED bore: 22.3 mm (0.878 inch) primary (REAR) bore, 15.75 mm (0.62 inch) secondary (FRONT) bore.


(Average bore size: 19 mm).



ABS

240 tandem master cylinder has a STEPPED bore: 22.3 mm primary (REAR) bore, 19 mm secondary (FRONT) bore.


(Average bore size: 20.65 mm).



M10 x 1.0 bubble flare (European) brake line ports.

240 Master Cylinder Part Numbers:
240 non-ABS Brake line ports on

left

PN
8111005-8

.
240 non-ABS Brake line ports on

right

PN
8111006-6

.
240 with ABS PN
3530972, 8251131, 8602015

.
Volvo 740 1986-88, 760 1986, 780 1987, 940 1991.


Volvo PN 1273243, 1359693, Dorman PN M39641.
STEPPED BORE:
22.2 mm primary (REAR) bore, 15.875 mm secondary (FRONT) bore.
M10 x 1.0 bubble flare (European) brake line ports ON LEFT/FRONT or on BOTTOM.

---
Volvo 940 1992-95, 960 1992-97, S90-V90 1998.


Volvo PN 3530352, 6819771, Dorman PN M390090.
STEPPED BORE:
23.8 mm primary (REAR) bore, 20.65 mm secondary (FRONT) bore.
M10 x 1.0 bubble flare (European) brake line ports ON LEFT or on BOTTOM.

---
Dodge Dakota 1987-93.


Dodge Chrysler 4294311, 4294312, 4294721, 4897208AA, Dorman PN M39638.
STANDARD BORE:
24 mm.
Rear port: 1/2-20 thread. Front port: 9/16-20 thread. Outlets on LEFT.

---
Dodge Plymouth Colt 1987-89, Hyundai Excel 1987-89, Mitsubishi Mirage 1987-88, Mitsibishi Precis 1987-89.


Hyundai PN 58510-21301, 58510-21302, 58501-21303, Mitsubishi PN MB238691, MB238700, MB316242, Dorman PN M39639.
STANDARD BORE:
0.813 inch (20.65 mm).
M10 x 1.0 double flare (Asian) brake line ports ON LEFT.

---
Dodge Plymouth Colt 1989-92, Eagle Summit 1990-92, Mitsubishi Mirage 1989-92.


Mitsubishi PN MB534019, Dorman PN M39722.
STANDARD BORE:
0.813 inch (20.65 mm).
M10 x 1.0 double flare (Asian) brake line ports ON LEFT and REAR TOP.

---
Ford Mustang SVT Cobra 1993
Ford PN F3ZZ-2140-A, Raybestos PN MC390125, Dorman PN M390125
STANDARD BORE:

1 inch (2

5

.

4

mm).
REAR brake line port: M10 x 1.0 mm bubble flare. FRONT port: M12 x 1.0 mm bubble flare.


Ford Mustang SVT Cobra 1994-95
Ford PN F4ZZ 2140-B, Raybestos PN MC390217, Dorman PN M390217
STANDARD BORE:

15/16 inch (23.8 mm).
REAR brake line port: M10 x 1.0 mm bubble flare. FRONT port: M12 x 1.0 mm bubble flare.


Ford Mustang GT 1994-96
Ford PN 130.61062, Centric PN 13061062, Raybestos PN MC390185, Dorman PN M390185.
STANDARD BORE:

1.0625 inch (27 mm).
REAR brake line port: M10 x 1.0 mm bubble flare. FRONT port: M12 x 1.0 mm bubble flare.
---
Ford Fiesta 1988-93
FORD PN E8BZ-2140-A, Dorman PN M39720.
STANDARD BORE:

0.750 inch (19 mm).
M10 x 1.0 brake line ports on RIGHT.

---

Ford Ranger 1987-89
FORD PN E7TZ-2140-D, Dorman PN M39633.
STANDARD BORE:

0.938 inch (23.83 mm).
REAR brake line port: M18-1.5. FRONT port: 9/16-18. Ports on RIGHT.
---
Mercury Tracer 1988-89
FORD PN E8GY-2140-B, Dorman PN M39742.
STANDARD BORE:

0.875 inch (22.22 mm).
REAR brake line port: M10-1.0. FRONT port: M10-1.0. Ports on RIGHT.

---
Nissan Pulsar NX 1985-86, Nissan Sentra 1984-85, Nissan Tsuru 1982-85
Nissan PN 46010-04B05, 46010-04B06, Dorman PN M39555.

STANDARD BORE:
0.750 inch (19 mm).
M10 x 1.0 double flare (Asian) brake line ports ON LEFT and REAR TOP.

---
Nissan 280ZX 1982-83
Nissan PN 46010-P9100, Dorman PN M39408.

STANDARD BORE: 15/16 inch (23.8 mm).
M10 x 1.0 double flare (Asian) brake line ports BOTTOM.

---
Saturn 2000-2002
GM Saturn PN 21013195, Dorman PN M630056.
STANDARD BORE:

0.875 inch (22.22 mm).
REAR brake line port: M12-1.0. FRONT port: M11-1.5. Ports on RIGHT.
Miscellaneous Stuff:

OTHER INTERESTING BRAKE PHOTOS
These are interesting. Pretty simple design.
I found these pics on a Porche 944 site.
Anyone want to make some sets for 240's??
The below photos are Porsche calipers adapted by a European 240 owner for an '81 244 Turbo. These calipers are considered
radial mount
. Custom two-piece rotors were used, however the rotor size is not known. Nice, simple adaptation. These pics were located in the following Turbobricks thread:
https://forums.turbobricks.com/showthread.php?t=22070
These calipers are RADIAL MOUNTED